Leeloo.ai dashboard shows your campaign key performance indicators, sorted by time intervals, tools used to create the automated customer journey.


Marketing strategy parameters
Analytics
Tasks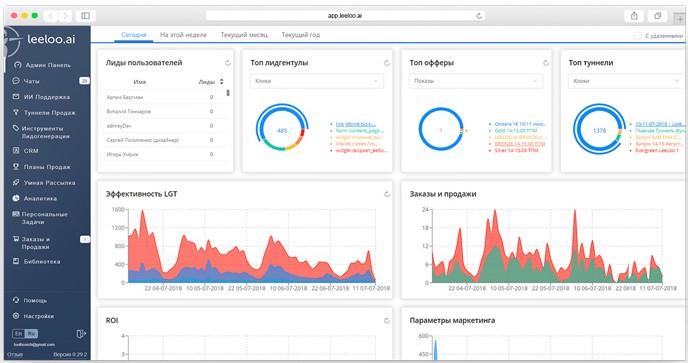 All the necessary functions are presented on one platform, which makes your managers' work more convenient and communication with subscribers and customers through messengers — more effective.
Leeloo.ai chats window allows subscribers and clients to send messages via messenger they are used to while a manager answers using one browser.


Integration with messengers:




Messages builder
Filtering client List
Sorting of dialogues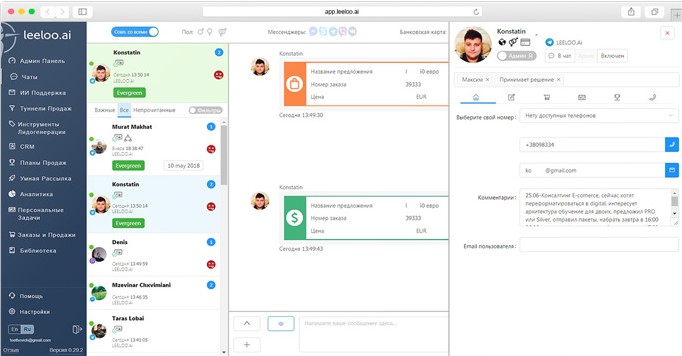 All the necessary functions are presented on one platform, which makes your managers' work more convenient and communication with subscribers and customers through messengers — more effective.
It allows you to create simple and complex models of chatbots communication with subscribers and customers, and to send information about order status ('Being processed', 'Paid', 'Failed') automatically.
Automation of statuses, orders and payments
Smart answers and FAQ
Replies for Facebook comments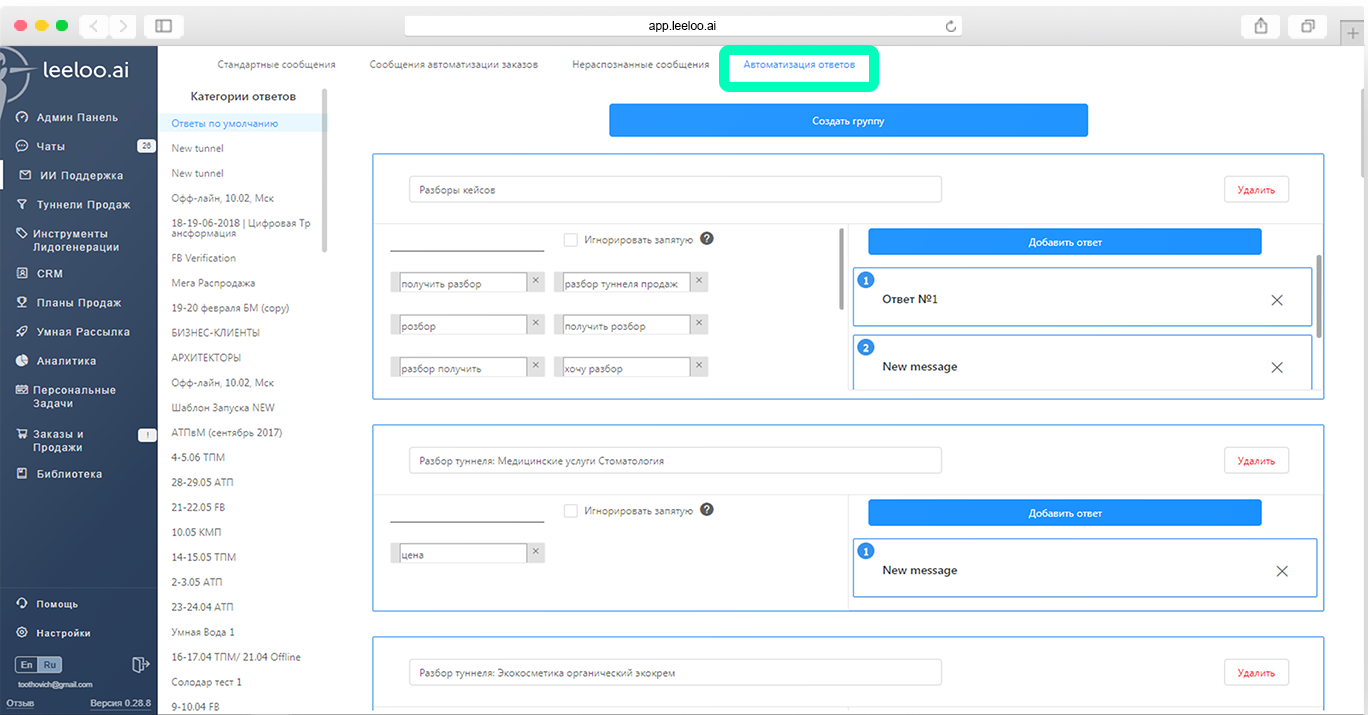 AI-based module stores all messages, which the system failed to understand, and distributes key words and phrases that were not recognized to the base of clever answers or frequently asked questions quickly and conveniently.
A sales tunnel module allows you to automate the customer journey from the first ad click to useful content distribution, offers, and everything that turns a cold subscriber into a buyer.
Conditions for sending information
Messages templates
Offers builder
Templates messages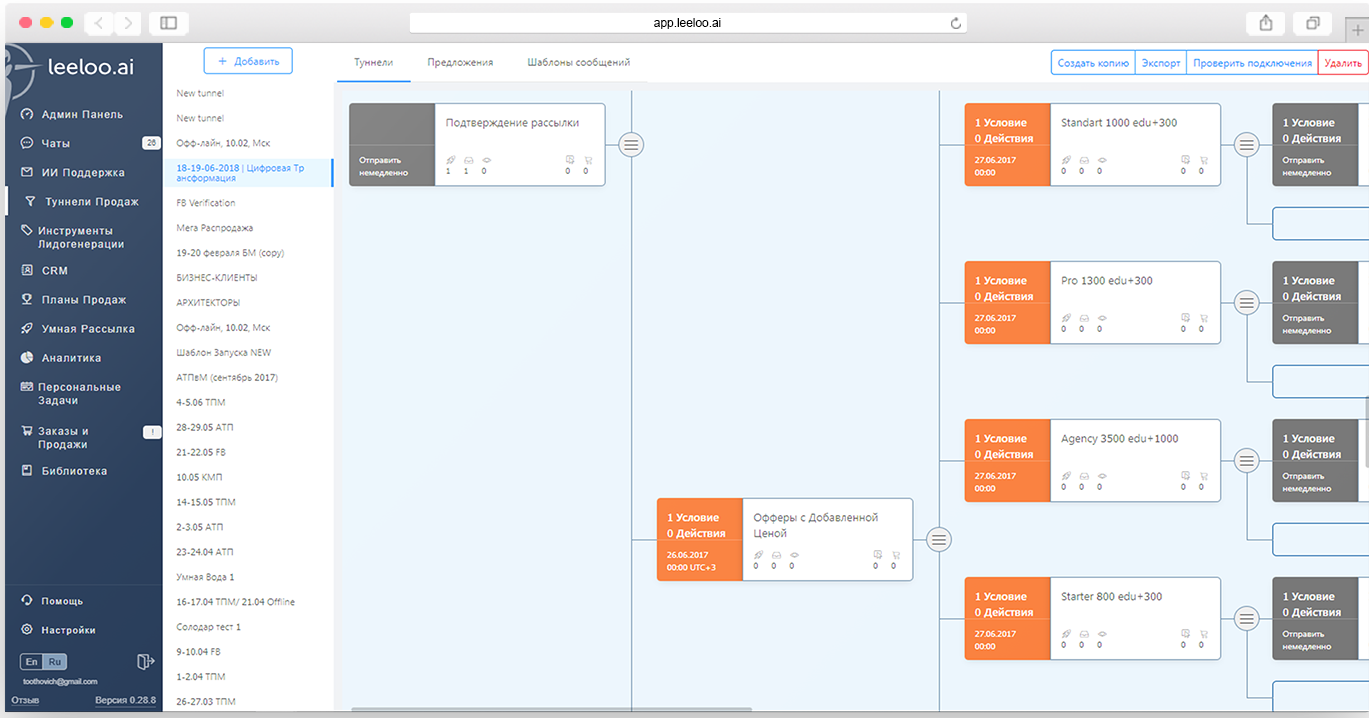 You can set up message distribution process with regard to date, send them with a delay, at a specific time, under certain conditions (for example: 'bought', 'ordered', 'was on the website', 'clicked on the button'), start or stop the distribution, depending on the subscriber's actions. Above all, you can automate the transformation of a subscriber to a buyer and send relevant content.
The lead generation tools module allows to create effective subscribe pages to your chatbots on messengers less than in a minute.
Widget on the website
Links
Forms of capture
Pop-up windows
QR codes
Facebook Messenger Ads
Facebook comments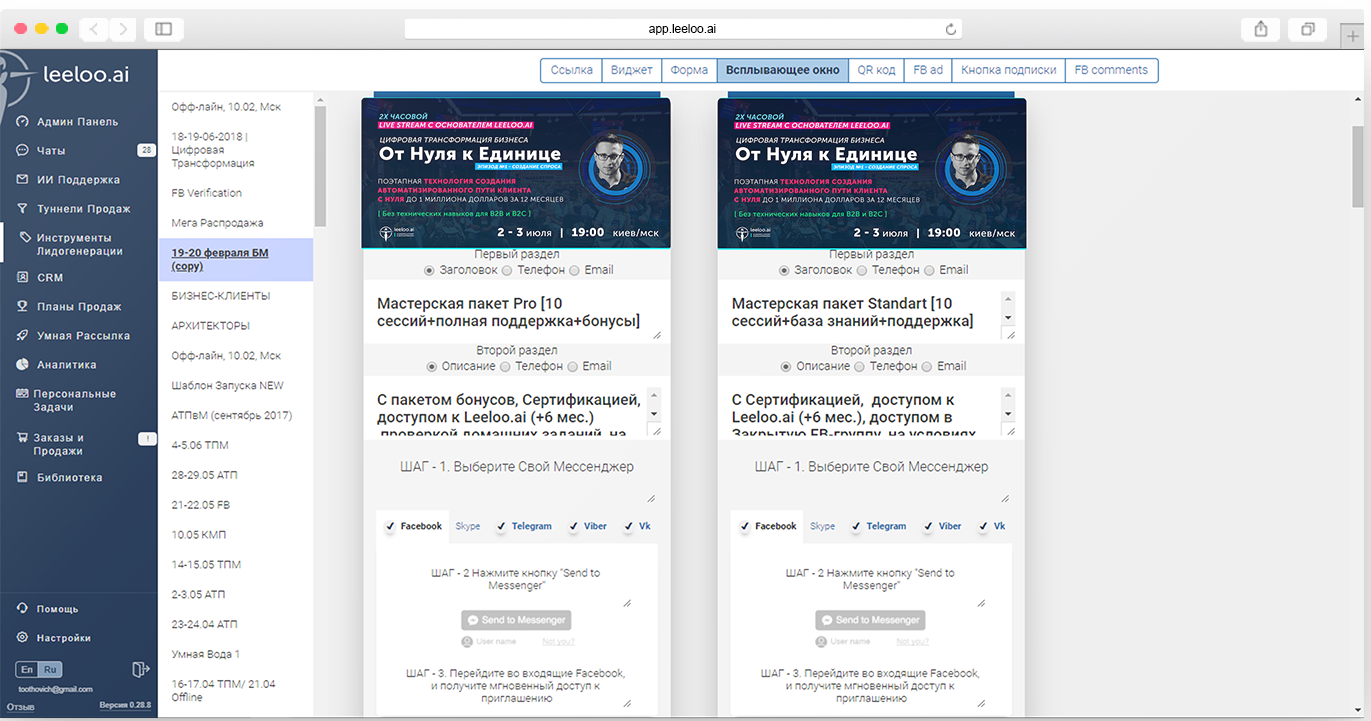 An integrated end-to-end analytics module creates reports on traffic sources efficiency so that you can compare the results of how each lead generation tool works.

An integration with Facebook Messenger Ads allows Facebook users to sign up to your chatbots on messengers in one click right from the news feed.
Built-in CRM system allows the sales department to conveniently manage the database of subscribers and lead them to the purchase without need for any integration with other services. Also, you can easily sort your customers by their status, source of traffic, orders, tunnels, sales plans, messengers, phone number and credit card information availability.
Integration with IP telephony
History of orders and payments
Personal tasks
Sales plans
Filtration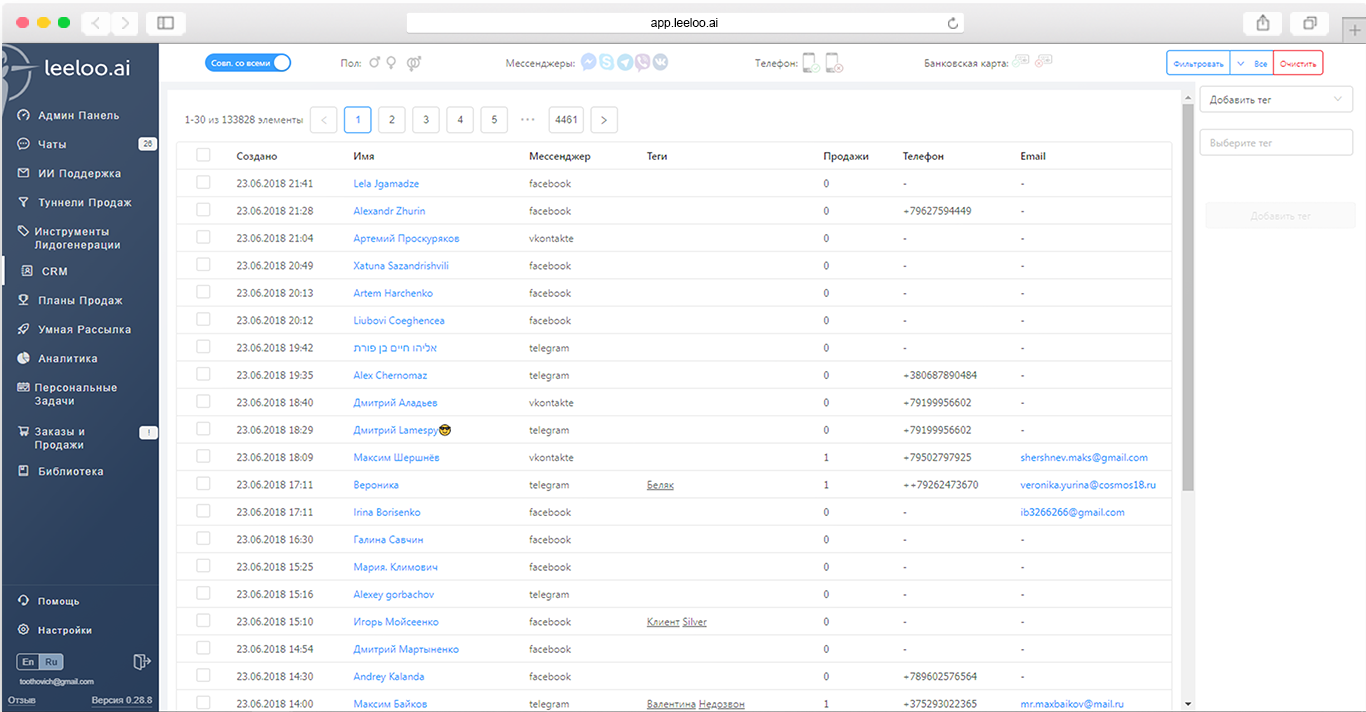 Integration with customer card allows you to see the history of orders and communication with the manager, set reminders, listen to phone calls records, call directly from the system, see the entire customer journey, and access the chat quickly.
Module orders and sales Leeloo.ai allows you to see the entire flow of incoming orders and payments from subscribers in real time. The module is equipped with audio and email reminder to the manager about the fact of payment. In case of failure of the payment, manager can immediately get in touch and help to make a successful payment. This allows managers to conveniently and quickly respond to failed orders and make more deals.
Base of all orders and sales
The notification of managers about ordering/payment proposals
Automatic generation of orders and invoice numbers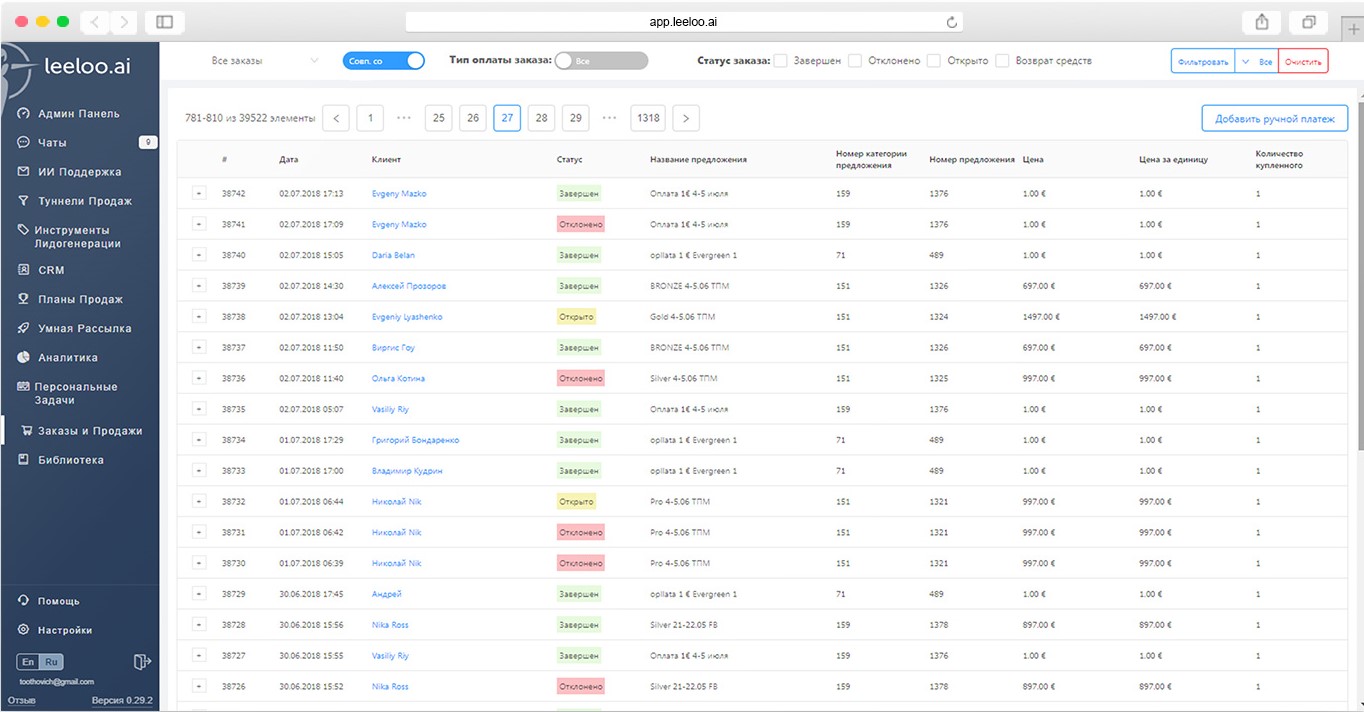 You can monitor the effectiveness of the sales plan, see all the statuses of the Manager's work with the client. CRM-system, IP-telephony, chats, statistics and all the necessary tools both for managers and sales managers are integrated.
Your managers can see reminders of scheduled arrangements on the chat.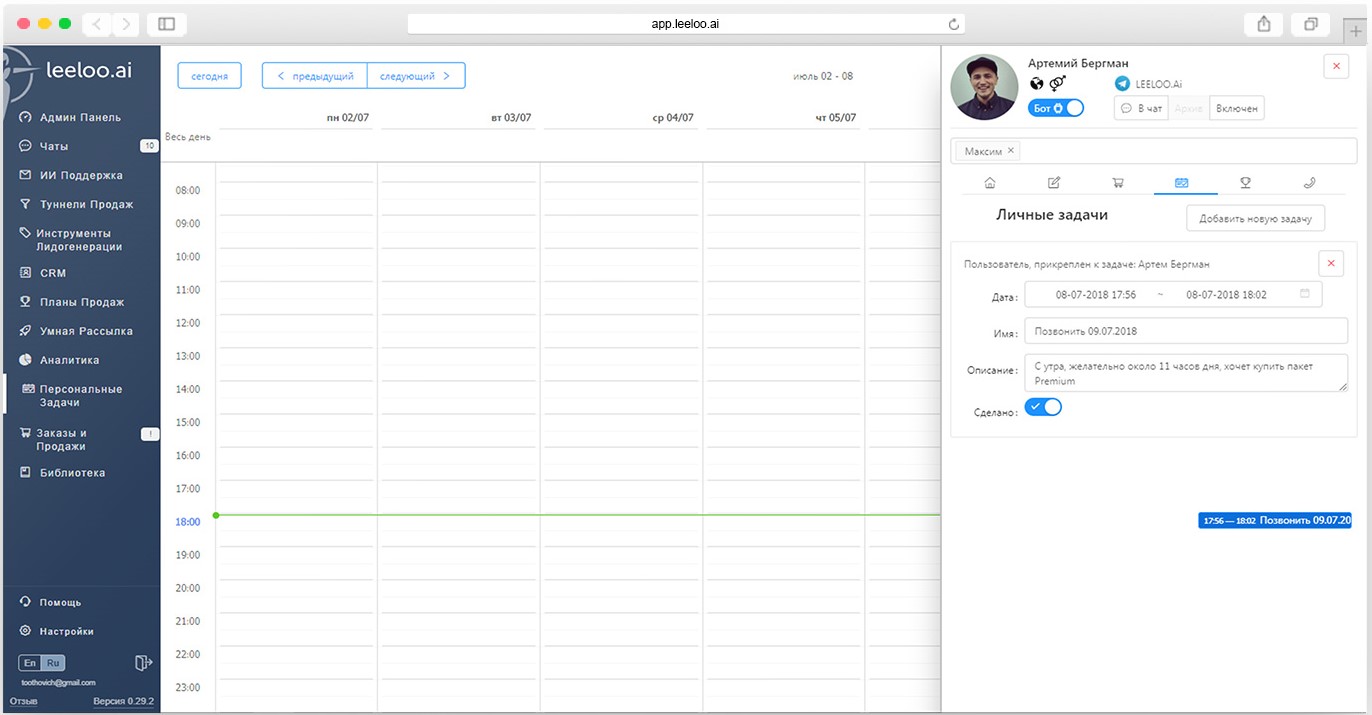 The Sales Plans module allows you to organize work of each manager and the sales department effectively, to see the status of orders processing and allows you to equally distribute the applications between all the managers or give tasks to a specific one. You can track the sales plan effectiveness, see all the client's statuses.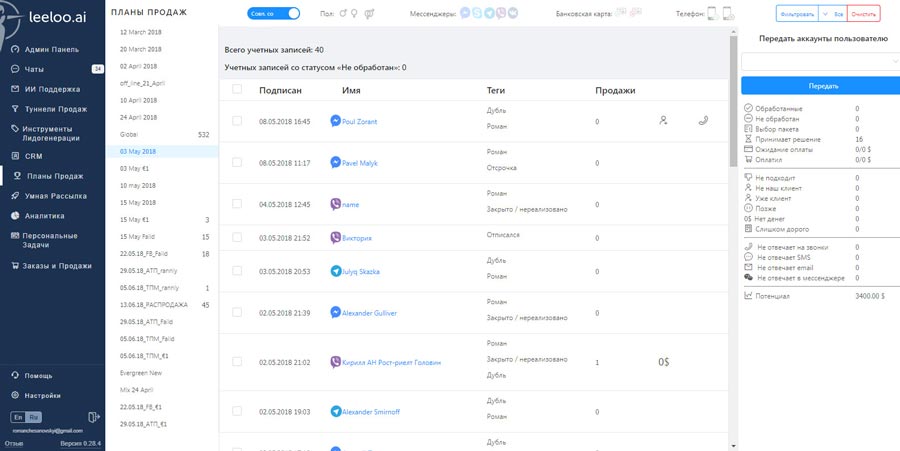 CRM-system, IP-telephony, chats, statistics and all the necessary tools both for managers and Head of Sales are integrated.
User role management module allows you to configure access to modules and functions. E.g., customer support managers can be given an access to chat rooms, the module Sales and Orders and CRM. Content managers can only access a tunnel to fill it with the content. Traffic managers have an access only to lead generation tools, etc.
Integration with IP Telephony
The constraint on segments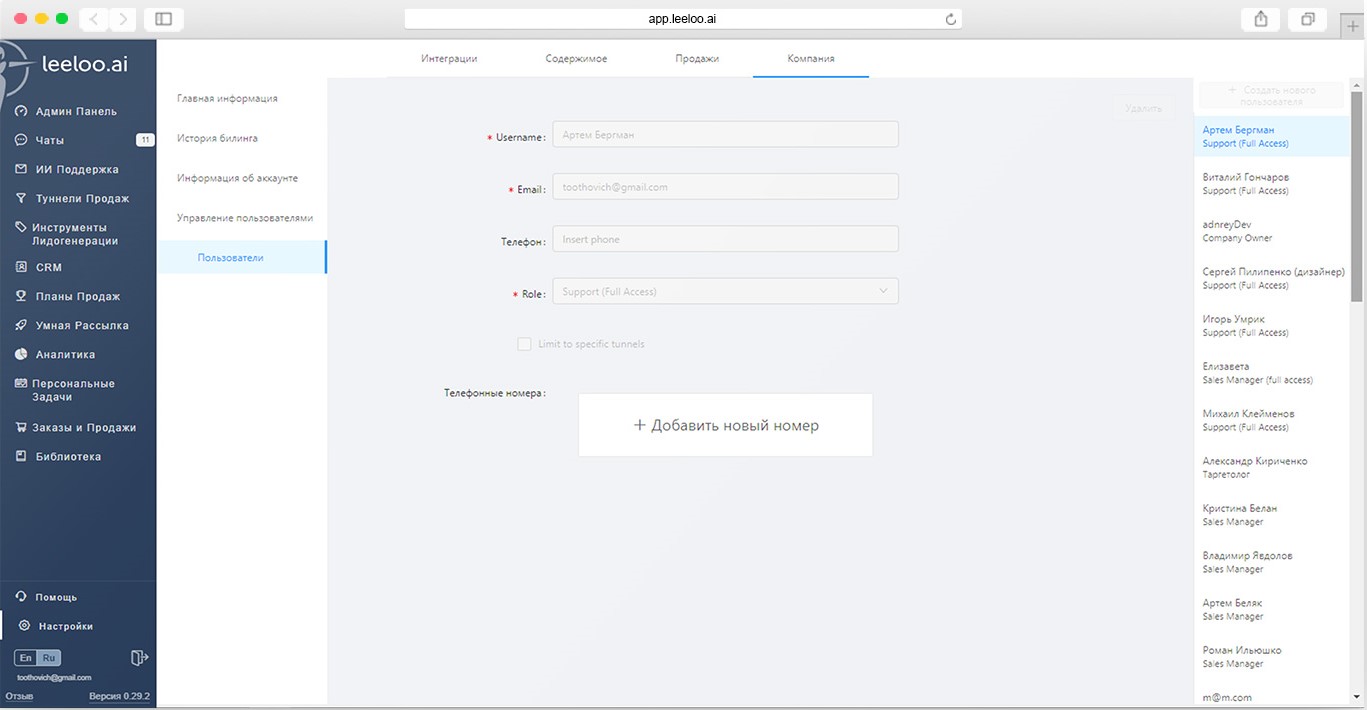 There is also a function that allows you to give the user an access only to a specific sales tunnel (or tunnels), so that he will see and manage only the data which is opened for him. In the other words, b2b support managers will only see subscribers to the b2b segment, B2C managers will only see B2C tunnels and their subscribers. You can customize any other scenarios that are necessary for your business.

It is possible to bind a specific IP-telephony number to the user, which allows to make and receive calls within the platform, as well as to automatically save the records of the manager's conversations with the client in the client's card.
Template library sales funnels Leeloo.ai is a catalog of ready-made scenarios of the automated client's path, among which you can select the most suitable and in a couple of clicks to import it to your account, receiving at the same time all the messages of the sales tunnels and lead generation tool, and smart answers used in the template. There are links with the scheme of the finished strategy and a video with a description in some of the templates.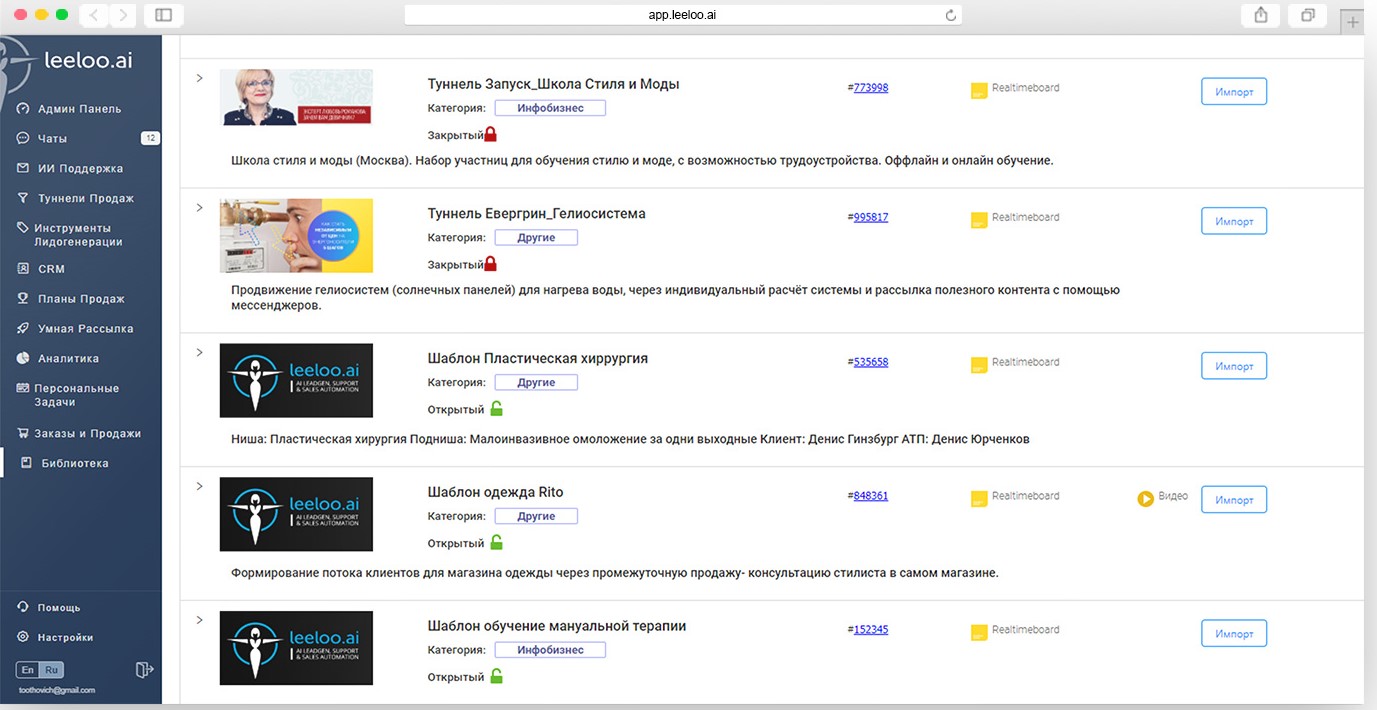 The library allows you to create a template from any of its sales funnels that you can share with any Leeloo.ai user through a short code.
In the future, the template library will become a template marketplace where you can sell or buy the required template.
Leeloo.ai is dynamically developing and regularly releases updates and functions necessary for customers to reduce the cost of customer acquisition(CAC) and increase LTV.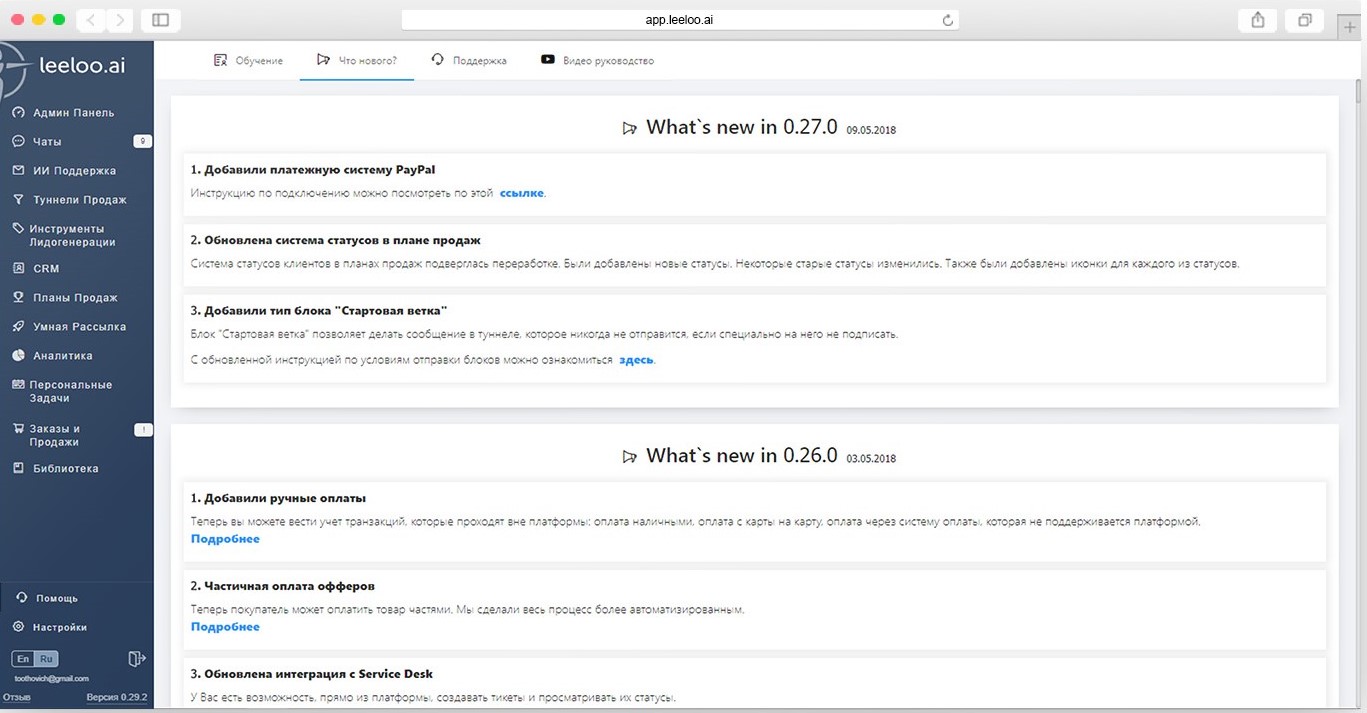 API and Zapier integration
Leeloo.ai allows you to integrate through Zapier more than 1,500 applications from CRM to Google Drive tables and transmit data on actions (for example, subscription, order, communication via messenger) without technical skills.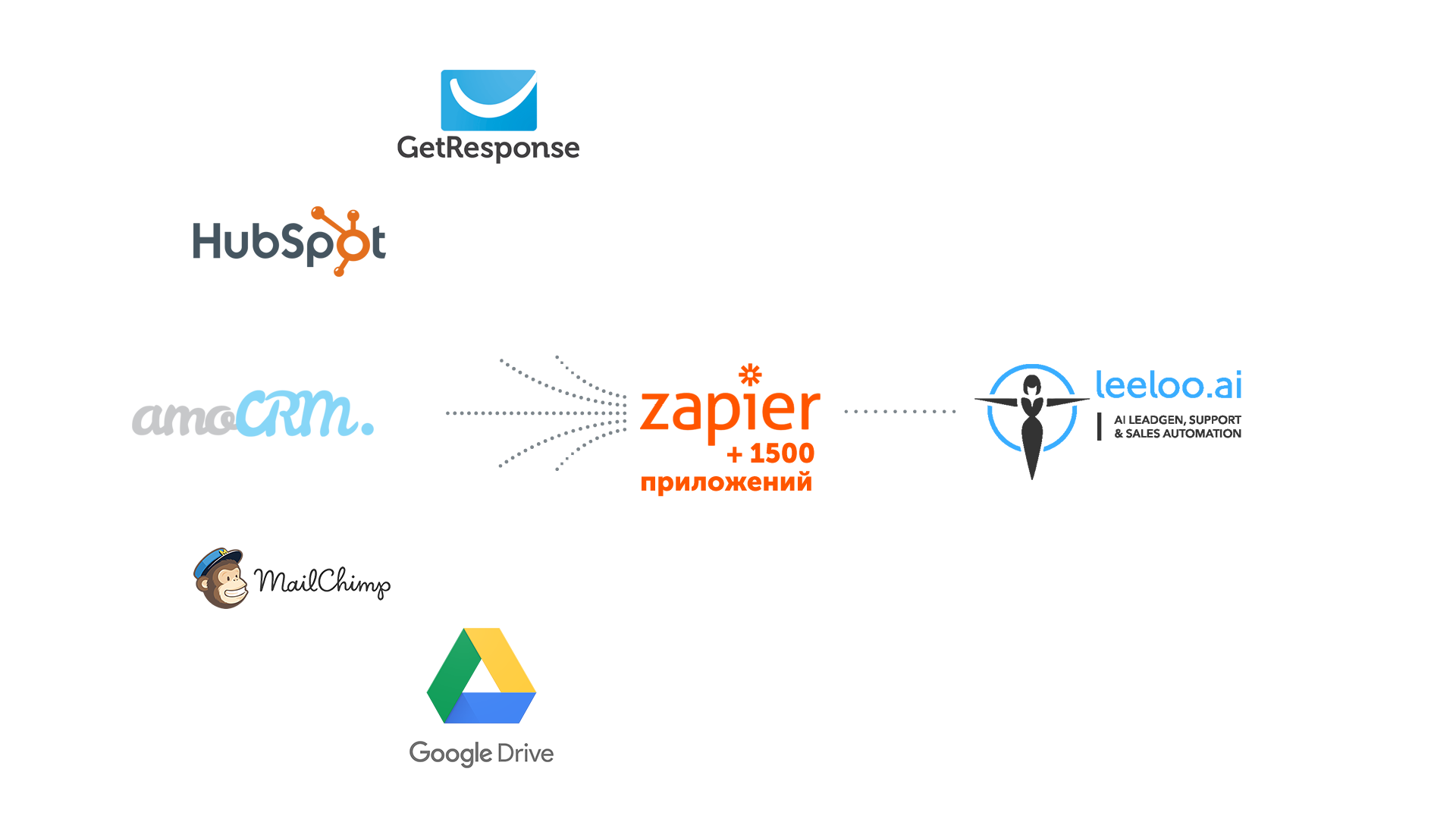 Besides API functionality allows programmers to link Leeloo.ai with any other CRM system according to the required scenario. For example, you can transfer data about orders and payments to 1C-accounting.
Smart mailing of Leeloo.ai allows you to send a message to the subscriber in his messenger if necessary (notify about promotions, send an invitation to the webinar). Unlike the tunnel (where everything is programmed), the mailing can be done either immediately or at a specified time. You can select any of the segments in the subscriber's base for distribution. You can send text to" Buy " buttons with the reference to payment systems in any of the messengers in which the client is subscribed.
Audience segment settings
Message Builder
Analytics on mailings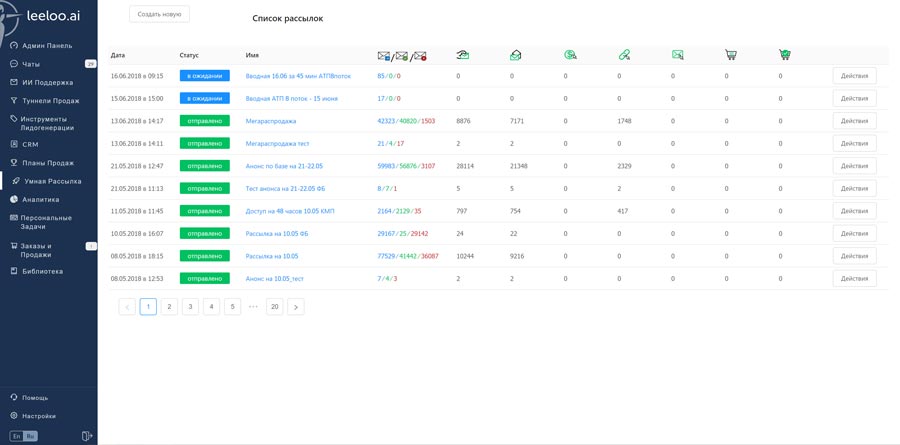 The integrated functionality of the filter pane allows you to configure mailing lists, which are ordered but not bought, which are bought and you want to send them an up sale. You can send mailings with notification of the expansion of the range, promotions and so on.
Analytics module allows you to track all sales tunnels' performance, sorted by traffic sources and lead generation tools. Thanks to this module, you can make decisions based on information about conversion rates from clicks to subscriptions, from subscriptions to orders, from orders to sales, by CAC, LTV, ROI parameters and see data on average bill, gross revenue, expenses and net income sorted by advertising channels.
Budget control
Detailed report
Analysis of all data of the tunnel and sales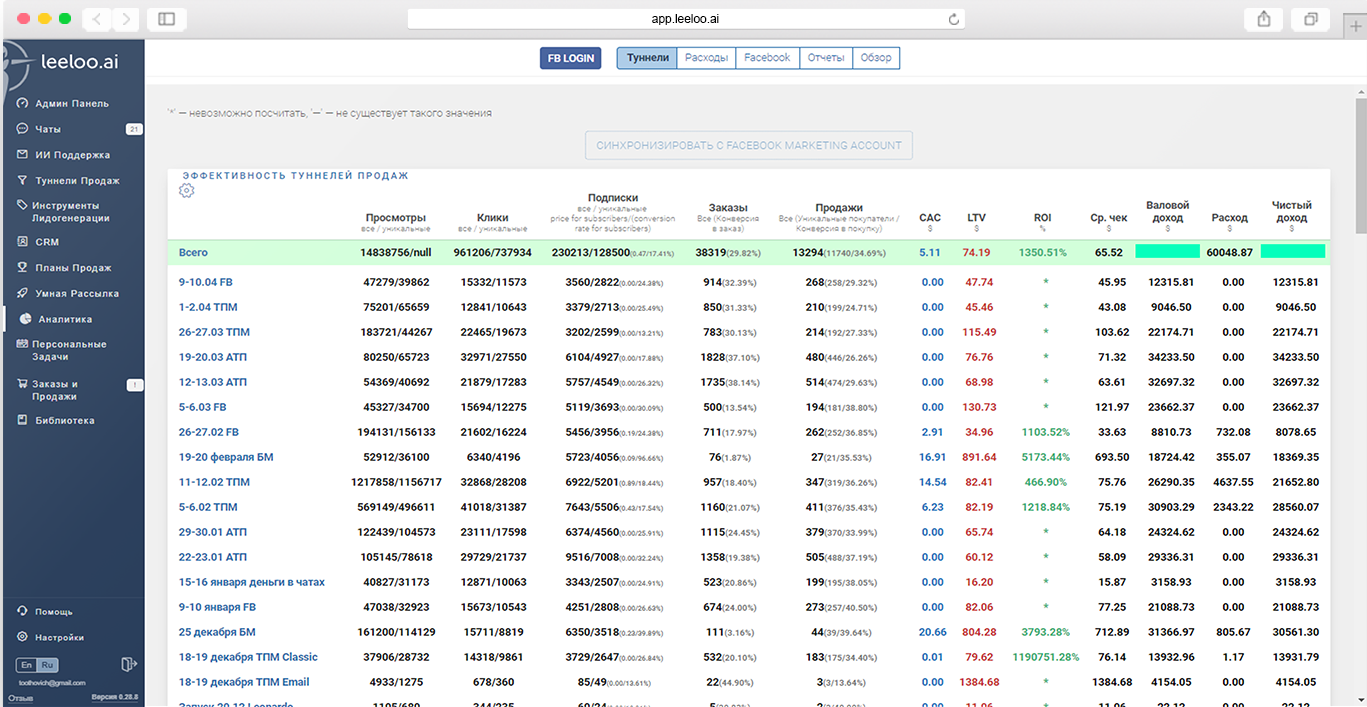 Integration with Facebook Marketing API gives the ability to connect the Facebook advertising statistics automatically and to see how much each ad costs and receive end-to-end analytics of every ad traffic efficiency.